Introduction
I am a Professor in the High Energy Physics Group at UCL. I work on a number of projects that utilise neutrinos and cosmic rays to investigate the Universe at the smallest and largest scales imaginable. In the top right-hand corner you should see one of a variety of images of either me or something related to my research.
Research Interests
Ultra-High Energy Neutrinos
The ANtarctic Impulsive Transient Antenna (ANITA) experiment is a balloon-borne radio-interferometer which files high above Antarctica searching for signals from ultra-high energy neutrinos interacting in the ice below. This international collaboration of scientists from three countries is attempting to turn the entire continent into a gigantic telescope to probe the furthest reaches of the universe using neutrinos.
Neutrino Oscillations
The Main Injector Neutrino Oscillation Search (MINOS) is, as it name suggests, a long-baseline neutrino oscillation experiment. Neutrino oscillations are a quantum mechanical phenomenon that MINOS measures to improve our understanding of the nature of neutrino, and shed light on new physics beyond the Standard Model of particle physics. I received my Ph.D. from University College London for work on MINOS, the title of my thesis is "Calibration of the MINOS Detectors".
CREAM TEA
CREAM TEA, the Cosmic Ray Extensive Area Mapping for Terrorism Evasion Application, is a knowledge exchange project that is attempting to utilise the technologies developed for MINOS, ANITA and other experiments to counter the threat of global terrorism. The project is developing new passive screening detectors which could be deployed to screen incoming cargo for terrorist material.
Other Stuff
Here's a pretty picture of me in the lovely Antarctic summer, in the background you can just about make out the Royal Society Range.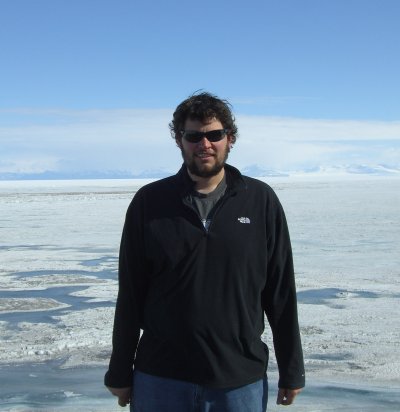 Contact Details
Address:

Dept. of Physics & Astronomy
UCL
Gower Street
London WC1E 6BT


Phone:

+44 (0)207 679 7266


Email:

r.nichol _at_ ucl.ac.uk (replace _at_ with @)