Radiotherapy/Experimental Runs/2020-02-04
From PBTWiki
Second experimental measurements with Cyberknife at Birmingham. Green scintillator thin sheet measurements only.
Setup
Schematic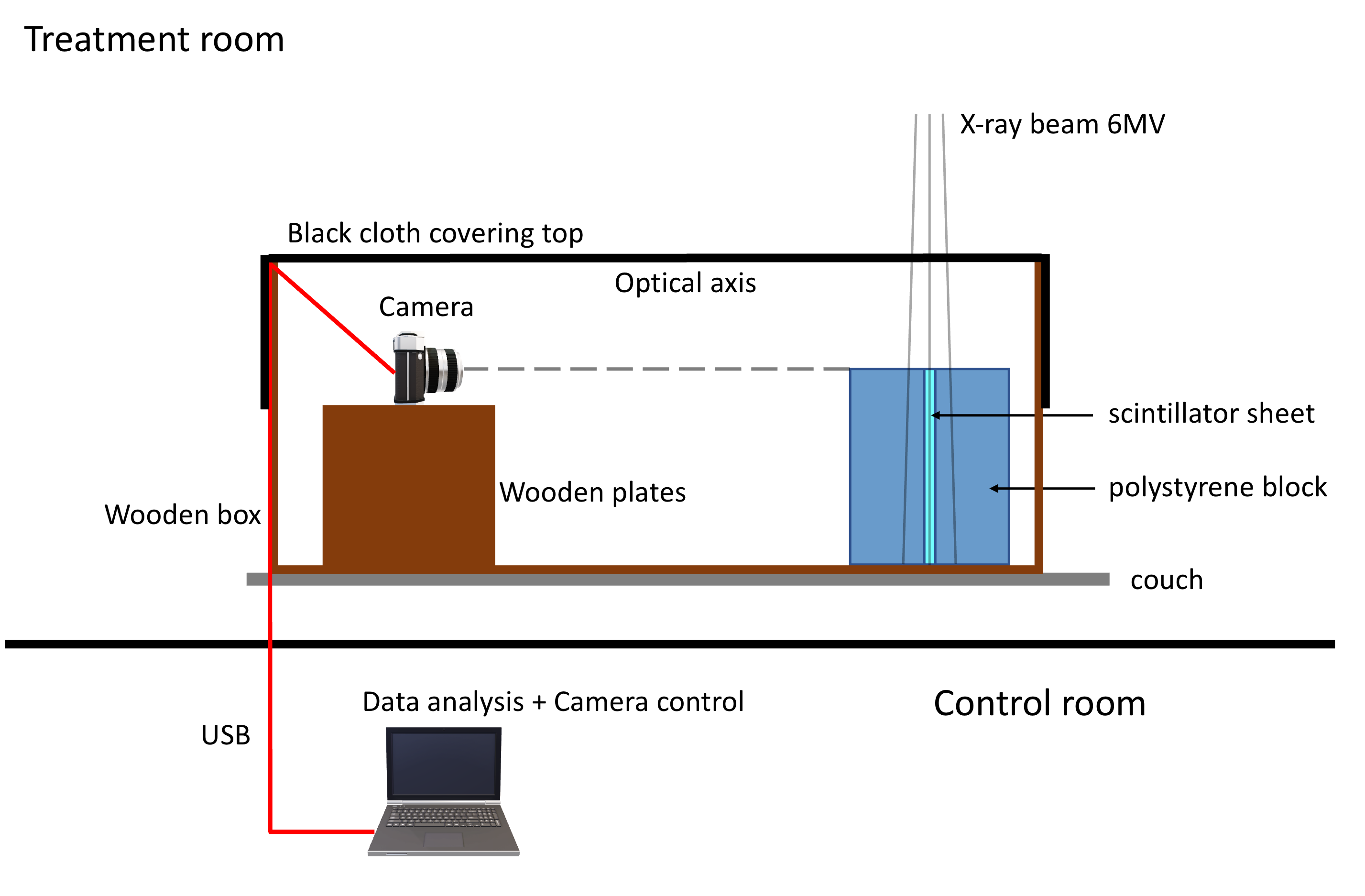 Pre-data Taking Information and Notes
Phantom

200mmx200mmx2mm blue scintillator sheet polystyrene base
sandwiched by two 200mmx200mmx50mm polystyrene clear plastic blocks

565mm from lens to sheet
Check camera in focus with ruler on the sheet
Ruler in focus at sheet
Scintillator blocks aligned to laser cross hairs
785 mm source to surface distance suitable for output factor/PDD/profile measurements.
Wooden box is covered with black cloth
Camera height adjusted with wooden plates
Top surfaces of plastic blocks and sheet aligned with paper underneath
Data Taking
All images taken with

Canon EOS 1100D
18-55mm lens
f/5
200ISO
30s exposure

Beam turned on for a given amount of time within the 30s exposure
This is noted in monitor units, with the beam having constant 1000MU/minute
Used EOS utility app for controlling camera
Image of ruler taken at sheet for pixels to mm conversion
3 images taken at each collimator size with 1 background image each.
| Collimator Size (mm) | Monitor Units | With sheet | No sheet |
| --- | --- | --- | --- |
| 5 | 400 | | |
| 7.5 | 400 | | |
| 10 | 400 | | |
| 12.5 | 400 | | |
| 15 | 400 | | |
| 20 | 400 | | |
| 25 | 300 | | |
| 30 | 300 | | |
| 35 | 250 | | |
| 40 | 250 | | |
| 50 | 150 | | |
| 60 | 150 | | |
Before and after irradiation
Green discolouration observed after irradiation. Only present when the lights are on