Lunches
Lunches are not included in the registration fee. As UCL is in central London, there are a number of places to go for lunch both on and around campus. Some suggestions are given below.
Click the image below to get a PDF version suitable for printing.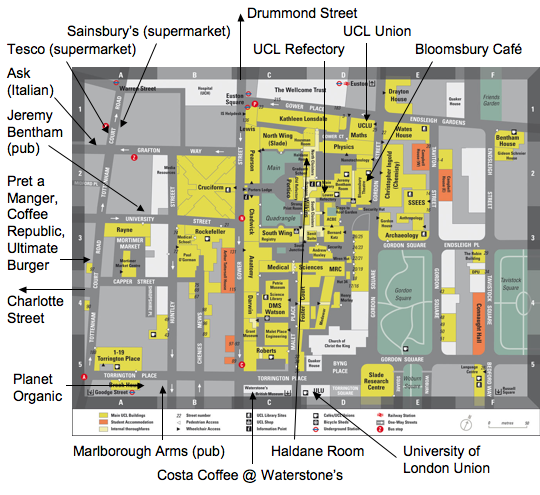 The most convenient option for lunch is probably the UCL
Refectory
. Other UCL shops and cafés are indicated on the map above. There are
Bars / Cafés
and
Shops
provided by the UCL Union (see
map
), and also the
University of London Union
. The main UCL Union building is at the corner of Gower Place and Gordon Street, adjacent to the Physics department. There are many shops, pubs, cafés and restaurants in the vicinity of Tottenham Court Road to the west or Euston station to the north. Branches of Sainsbury's and Tesco supermarkets are located on Tottenham Court Road close to the Warren Street tube station. Take-away food can be eaten in the Cloisters or in the Haldane Room. Lunches can also be taken at the
pubs / bars
and
restaurants
given on the respective pages. For example, there are many restaurants in
Charlotte Street
to the west and
Drummond Street
to the north. The nearest pub is the Jeremy Bentham on University Street.